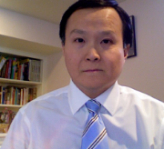 Our Pastor
Hi there! My name is David Rhee and I am the pastor of Westminster Presbyterian Church.
As a visitor to our website, one question you probably have is: Why Westminster?
Well, there are many churches in Las Vegas, but what makes Westminster unique is our ability to offer the individual attention you can't get from a mega-church, along with the diversity of a congregation that has members from a wide array of economic, ethnic, political, and social backgrounds.
We are a church community that will nuture your personal relationship with Jesus Christ.
Come join us for one of our many activiites throughout the week. Or feel free to contact me directly at: pastor@wpcvegas.org
Grace and blessings,
Pastor David Rhee