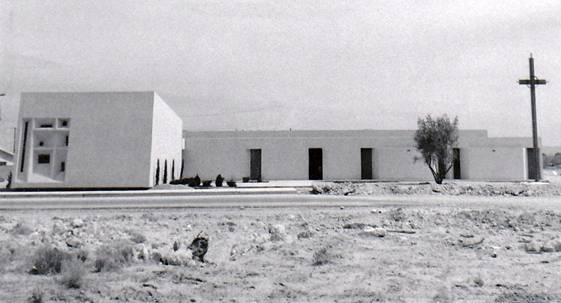 Our History
IN THE BEGINNING...
The first several meetings of the church were held in members' homes starting in the autumn of 1963. Las Vegas developer Ernest Becker, who owned the Charleston Heights Bowl (now Arizona Charlie's), offered the use of its banquet room as a meeting space for the new congregation. To establish a proper religious atmosphere, the bartender across the hall encouraged his patrons to keep their voices down while worship services were taking place.
The organizing meeting was held on March 22, 1964, and charter members numbered 110 initially, although others were added over a short period. The congregation considered several names for the chuch, but when they were put to a vote, Westminster was the clear choice.
On June 20, 1965, the ground was broken for a new church on a plot of land located east of the intersection of Lake Mead Boulevard and Decatur Boulevard. The first service was held in the new building on Christmas Eve, 1965.
The organizing minister, Gus Harris, was experienced in starting new churches. His knowledge and initiative were outstanding, and he dealt with members with good natured adaptability and patience. He selected a house on Saylor Way for a church manse and after a few years its garage was converted into a church office.
In early 1966, Rev. Harris decided that this church was firmly enough established that he and his wife Mary could move on.
Rev. J. Whitfield Sloan was installed in 1967 as Westminster's second pastor. He had served many years as an Army Chaplain, and came to Las Vegas from a church near Denver. "Whit" had a hearing loss that led to other problems so he retired in 1971, moving to Topeka, Kansas with his wife Dorothy.
The next pastor was Rev. Charles F. Kothe who, with his wife Jeannie, arrived in 1972. Like his predecessors, he enjoyed the manse where he commuted a long three feet through the utility room to his office. However, he persuaded the church to add offices for the pastor and a secretary to the existing church building. Charlie eventually felt the urge to move on and left Westminster in 1981 to take pastorates at Rolling Hills, California, and later at Burien, Washington.
The next pastor was Rev. Constance McClellan, who arrived in 1983. Connie preached what many considered excellent sermons, but her health was suffering and she retired from the ministry in 1986.
THE ROARING EIGHTIES...

Rev. Ara Guekguezian was serving at the Tonopah Presbyterian Church when Presbytery asked him to become the pastor of Westminster in 1986. Under Ara's leadership, Westminster grew and matured in numbers, stability, and outreach. A large fellowship hall, library and storage rooms were added to the church building around 1990, and the parking lot was paved after Lake Mead was widened and curbed. In 2000, Ara was called to a church in Fresno, near where his parents lived.
Dr. Carol S. Wood began serving as pastor in July, 2003. Carol retired from the ministry in 2011 and was replaced by Reverend Adolph Kunen, who served as pastor until 2015.
WESTMINSTER TODAY...
On January 1, 2017, David Rhee was installed as the new pastor of Westminster. This is David's first pastorate. He earned his Master of Arts in Theology & Ministry from Fuller Theological Seminary.
We are excited about what the futures holds in store for our church, and we welcome you to join us on our journey with Christ.